Details

Written by

Brandon M Heishman

Category: Weather Reports
Hits: 623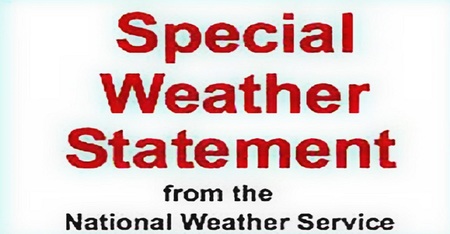 Published: 6/30/2020 @ 2:33 PM – Updated: 6/30/2020 @ 2:33 PM
Special Weather Statement Issued by NWS NorthernIndiana (Northern Indiana and Northeastern Ohio)
Indiana Target Area: Blackford, Cass, Grant, Miami, and Wabash Counties.
A STRONG THUNDERSTORMS WILL AFFECT SOUTHERN WABASH, GRANT, MIAMI, BLACKFORD, AND EASTERN CASS COUNTIES.

At 156 PM EDT, a cluster of strong thunderstorms extended from Peru to near Hartford City. The storms were nearly stationary. Torrential rainfall can be expected with these storms. Winds in excess of 40 mph are possible.

Locations impacted include: Marion, Peru, Wabash, Hartford City, Gas City, Upland, Fairmount, Grissom AFB, Jonesboro, Sweetser, Walton, Swayzee, Bunker Hill, La Fontaine, Matthews, Mexico, Lincoln, Wells, Sims and Galveston. This includes Interstate 69 in Indiana between mile markers 252 and 268.


Instructions: Torrential rainfall may cause localized flooding. Do not drive your vehicle through flooded roadways.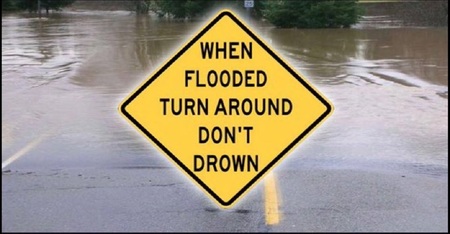 Details

Written by

Brandon M Heishman

Category: Weather Reports
Hits: 372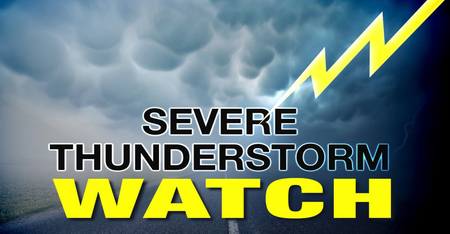 Published: 6/26/2020 @ 11:50 PM – Updated: 6/26/2020 @ 11:50 PM
Severe Thunderstorm Watch Issued by NWS NorthernIndiana (Northern Indiana and Northeastern Ohio)
Indiana Target Area: Allen, De Kalb, Elkhart, Fulton, Kosciusko, Lagrange, Marshall, Noble, Pulaski, Starke, Steuben, and Whitley Counties.
SEVERE THUNDERSTORM WATCH 307 REMAINS VALID UNTIL 5 AM EDT /4 AM CDT/ SATURDAY FOR THE FOLLOWING AREAS IN INDIANA THIS WATCH INCLUDES 12 COUNTIES.

IN NORTHERN INDIANA: ALLEN IN, DE KALB, ELKHART, FULTON IN, KOSCIUSKO, LAGRANGE, MARSHALL, NOBLE, PULASKI, STARKE, STEUBEN, and WHITLEY COUNTIES. 
IN MICHIGAN THIS WATCH INCLUDES 2 COUNTIES IN SOUTHWEST MICHIGAN: BRANCH, and HILLSDALE COUNTIES. 
IN OHIO THIS WATCH INCLUDES 5 COUNTIES IN NORTHWEST OHIO: DEFIANCE, FULTON OH,  HENRY, PAULDING, and WILLIAMS COUNTIES.
THIS INCLUDES THE CITIES OF: AKRON, ALBION, ANGOLA, ANTWERP, ARCHBOLD, AUBURN, BASS LAKE, BREMEN, BRONSON, BRYAN, COLDWATER, COLUMBIA CITY, CULVER, DEFIANCE, DELTA, DESHLER, EDGERTON, ELKHART, FORT WAYNE, FRANCESVILLE, FREMONT, GARRETT, GOSHEN, HICKSVILLE, HILLSDALE, JONESVILLE, KENDALLVILLE, KNOX, LAGRANGE, LIBERTY CENTER, LIGONIER, LITCHFIELD, MEDARYVILLE, MENTONE, MONTPELIER, NAPOLEON, NAPPANEE, NEW HAVEN, NORTH JUDSON, PAULDING, PAYNE, PLYMOUTH, ROCHESTER, SHERWOOD, SHIPSHEWANA, SOUTH WHITLEY, SWANTON, SYRACUSE, TOPEKA, TRI-LAKES, WARSAW, WAUSEON, WINAMAC, AND WINONA LAKE.